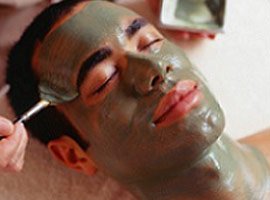 Modern male likes to look after his skin. He now spends more time on his beauty regime whether it's just to care and prevent the skin from the side effects of pollution and outdoor conditions or in his quest to look impressive. Media, movies, glamour filled surroundings all have further contributed in creating awareness about the need to look attractive and feel good about it.
A look at the skin condition reveals a lot about the general health, diet and lifestyle of the person. Today, several beauty products are exclusively formulated to cater the need of male epidermis and many spas are equipped just to pamper the male wellness needs.
Facials too are now not just confined to woman alone, men also go for facials. Spas incorporate special treatments to look after masculine skin that is thicker and due to regular shaving becomes sensitive and dull and needs more attention. Spa Genie looks at some of the facial treatments offered at Cool Aroma Gentleman's Spa to help you choose best suitable option for you.
Express facial
Who should go for it: Designed for an active urban male.
Why to take this treatment: Being busy with a routine just spinning around your life's commitment does not mean that you are not eligible to look after your skin needs. This treatment is just formulated for you to help you keep your face bright and fresh even when you have little time at hand.
Benefits of the treatment: Express Facial treatment is aimed at fast and effective skin rejuvenation. It improves your skin structure, smoothing its texture, and leaves your skin feeling light and silky smooth.
How it works: Depending on your skin type, be it oily, normal or dry, the treatment is tailored to bring a glow to your face. This fast and effective procedure can be carried out in just 30 minutes ahead of an important meeting, date or event. The skin brightening technology of our Express Facial treatment will instantly increase your skin radiance and reduce discolouration. Your dry skin will be well-hydrated and any oily skin will be cleared of impurities and excessive oil.
Duration and price: 30 minutes is AED 110
Purifying Skin Treatment
Who should go for it: People with normal and oily skin both can take this treatment.
Why to take this treatment: It aids to remove impurities and microscopic skin debris. The excessive oil and impurities that gets blocked in a pore prevent free oxygenation, which normally results in skin irritation and acne. To prevent this condition, a regular purifying skin treatment is a must.
Benefits of the treatment: This cleans and refreshes your skin, removes dead skin cells and smoothes, softens and evens out the skin tone. The treatment also hydrates the skin – improving its tone and texture, gives an instant glow as it de-stresses and detoxifies the skin. Also effective in cleaning pores damaged from sun exposure, hot weather, city pollution or even too much partying.
How it works: Your skin looks radiant and appearance of pores reduces. This is due to better skin oxygenation and increased blood circulation, which makes your skin regain its self-renewal properties that will give you a more youthful look. The range of purifying skin treatments are primarily aimed at the superficial skin layers but over a series of treatments textural irregularities and pigment imperfections can also be improved or even eliminated.
Duration and price: 60 – 90 minutes is AED 230
Brightening Facial
Who should go for it: Designed for people with prematurely ageing or pigmented skin.
Why to take this treatment: To increase the glow of otherwise dull and tired looking face.
Benefits of the treatment: It clears up impurities leaving your face visibly brightened. This procedure will even out your complexion and remove its tired look. Fresh and radiant, your face will shine with a youthful and renewed look.
How it works: The treatment improves the skin structure, makes it smooth and reduces superficial acne scarring and brown spots. Experts at the spa will help you choose a customized treatment that will promote cleanliness and fitness for your skin.
Duration and price: 60 – 90 minutes is AED 250
Call to book now: +971 4 370 9706 or 800COOL (800 2665)
Make an appointment at our branch at Oud Metha, Dubai or Prism Tower, Business Bay, Dubai.
Prism Tower, Business Bay, Dubai: Open from 10:00AM to 11:00PM
Call to book: 04 4203344
Oud Metha, Dubai: Open from 10:00 am to 12:00AM Midnight
Call to book: 04 3709706