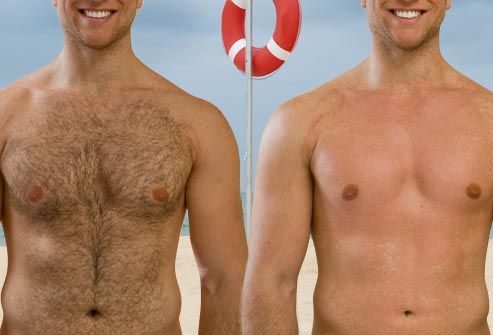 Today as men are paying closer attention to their looks, more of them are coming to Cool Aroma Gentlemen's Spa to have excess hair removed using a variety of methods.  Gone are the days when only women in Dubai frequented spas.  Now, more men are coming to Cool Aroma than ever before.
Hair Waxing
Hair waxing for men is now common, and is getting more popular in Dubai. It's no longer just for bodybuilders, swimmers or cyclists; men of all walks of life in Dubai prefer hair waxing instead of shaving or other types of hair removal. Many men want to have smooth body skin and for a longer period of time than they get from shaving.
Waxing is a hair-removal process that involves spreading warm wax onto the desired area, and then applying a strip of cloth or muslin onto the wax.  In a minute or two after the wax cools, the cloth is gently pulled away to remove both the hair and the hair root. Cool Aroma Gentlemen's Spa in Dubai now use Rica Waxes®.  Rica Waxes® is a premier brand of hair-removal wax from Italy that is gentle and removes hair with minimal pain.  It keeps the skin silky smooth for a long time.  Or you can opt for a traditional wax with different blends of herb or vegetable oils that produce a honey-like consistency.  These new waxes actually nourish and moisturize the skin, so it looks and feels great.
Chemical Hair Removal Treatments
Not all men are inclined to get their hair waxed off so Cool Aroma also offers hair removal by shaving or using a chemical cream. These methods don't delay the hair re-growth but they're pain-free methods of hair removal.
Trimming
Electric trimmers are still one of the most popular methods of hair removal for men.  There's no pain, mess and the cost is minimal.  Our hair-removal professionals can use an electric trimmer on your head, for nose hair, on the ears, around the nape of the neck, legs and even on the pubic area.
Sugaring
This is similar to waxing, but uses a paste of sugar instead.  The paste is a mixture of sugar, lemon, water, citric acid and gum.  Sugaring was used in ancient Egypt as an effective hair removal method. The lemon in the sugar paste is refreshing in hot, sunny weather because it provides a cooling effect and it gives your skin radiant glow.
Electrolysis
Electrolysis uses a needle to zap hair at its root.  It actually kills the hair root permanently. This procedure requires a professional electrologist and takes a number of appointments to complete.  It's typically used for small areas on the body where hair growth is a concern, such as between or around the eyebrows, on the back of the neck, or sporadic areas of hair on the body.
Laser Treatments
Laser hair removal is a medical procedure that, like electrolysis, kills the hair follicle.  However it's performed using a laser beam instead of a needle.  Dependent upon the color of your hair and skin, laser treatments may or may not be a good option for you. The best results occur in men who have fair skin and black hair. If your skin is tanned you're not a good candidate for laser because it can lead to skin pigmentation issues. Laser hair removal is typically the most expensive form of hair removal.
For more information about professional hair removal for men, visit Cool Aroma Gentlemen's Spa in Dubai.
Make an appointment at our branch at Oud Metha, Dubai or Prism Tower, Business Bay, Dubai.
Prism Tower, Business Bay, Dubai: Open from 10:00AM to 11:00PM
Call to book: 04 4203344
Oud Metha, Dubai: Open from 10:00 am to 12:00AM Midnight
Call to book: 04 3709706