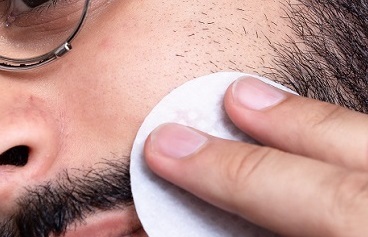 Skincare has become an increasingly important part of many men's lives. While we all understand the importance of cleansing and moisturising our skin, exfoliation can be something we skip.
However, exfoliation is one of the most important parts of skincare. But what is exfoliation and why should you start making exfoliating part of your routine? Read on to find out more.
What is exfoliation?
You may not be familiar with exfoliation, but it is an essential part of any skincare regimen. Because your skin is constantly growing new skin cells, these can build up, causing your skin to appear dull and tired.
When exfoliating, you will use a scrub with microbeads or sugar in it, which work to remove this dead skin, leaving only fresh new skin resulting in a younger look.
Why exfoliate?
Men can especially benefit from exfoliation, as your thicker skin will be made softer and more toned by the process. By sloughing off the dead skin, especially on your face, you can improve the look and feel of your skin. Your skin will look fresher and brighter once this is removed, which can make it easier for you to shave without cutting yourself.
Not to mention that exfoliating also makes your moisturizer more effective. If your pores are clogged and you have not removed your dead skin, your skin products cannot sink in as easily as they will be able to if your skin is fully exfoliated.
How can you add exfoliation to your routine?
There are so many benefits of exfoliation, but how can you add exfoliation for men to your skincare routine? There is a range of different scrubs available for both your body and facial skincare. However, you should only exfoliate twice a week if you have dry skin or every other day if you have oily skin.
If you are looking to expand your skincare and body care routine to include exfoliation, you can jump-start your new routine at Cool Aroma Spa, where we can exfoliate your body as part of a wonderful range of treatments to help improve your skin.
Make an appointment at our branch at Oud Metha, Dubai or Prism Tower, Business Bay, Dubai.
Prism Tower, Business Bay, Dubai: Open from 10:00AM to 11:00PM
Call to book: 04 4203344
Oud Metha, Dubai: Open from 10:00 am to 12:00AM Midnight
Call to book: 04 3709706