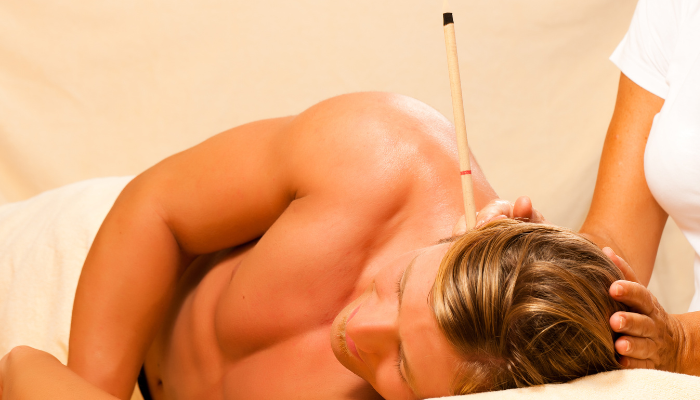 Do you hear that?
If you can't, it's probably time to get an ear cleaning session.
Gotcha!
While we spend hours in front of the mirror, in salons, and spas for our skin and hair, we often forget to give the same care to our ears. Yes, you read that right. Read on to find out why a relaxing Ear Coning treatment should make it to your self-care list!
What is Ear Coning?
Ear Coning is a non-invasive, non-surgical treatment that involves the use of a long hollow ear candle which is placed into the ear, then lit from the opposite end. This produces a vacuum like atmosphere inside the ear canal. As the candle melts, it coats the inside of the ear with beeswax that gently draws out excessive ear wax from the ear. It also gently releases a soft smoke into the ear which has a relaxing effect on the mind.
What are the benefits of Ear Coning?
Ear wax removal:
One of the main benefits of Ear Coning is the removal of excessive wax build-up in the ear canal. Often, clients experience an immediate benefit of Ear Coning in the form of instant better hearing. Besides removal of wax, Ear Coning also draws out other impurities from the ear. Opposed to Ear Syringing where water is directly injected into the ear, Ear Coning is a gentle way to achieve the same results without causing any potential damage.
Relieves ear ringing:
If you suffer from Tinnitus i.e. a perpetual high-pitched buzz inside the ears, Ear Coning could help manage this condition by removing ear wax and other impurities that could be the cause of pressure and consequent ringing in one's ear.
Relieves chronic ear aches and headaches:
Along with wax and other impurities, Ear Coning also aids the removal of bacterial build-up and viral infections. This results in improving chronic ear aches and headaches. However, Ear Coning is not a medical solution to ear infections and it is best to speak to a medical professional if it persists.
Improves mental health:
In many cases, Ear Coning has been known to help centre one's mind and bring balance to their mental state. It is believed that this procedure draws out impurities from the blood, clears toxins, and clears the mind.
Reduces body pain:
As Ear Coning releases pressure on nerve endings through the removal of wax and other impurities, it helps relieve chronic pain in the ears, head, and neck. This also helps one relax and think better.
However, it is important to understand minor risks are associated with this procedure. The most common of these is minor burns and some redness in the ear canal. Hence, it is important to go to an expert therapist to get your Ear Coning done.
Make an appointment at our branch at Oud Metha, Dubai or Prism Tower, Business Bay, Dubai.
Prism Tower, Business Bay, Dubai: Open from 10:00AM to 11:00PM
Call to book: 04 4203344
Oud Metha, Dubai: Open from 10:00 am to 12:00AM Midnight
Call to book: 04 3709706