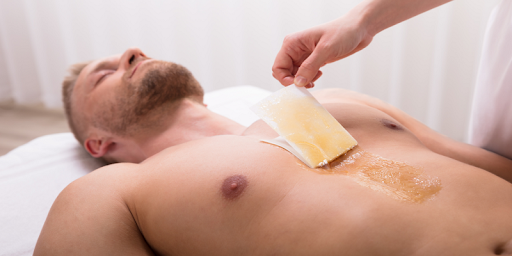 If you're looking for quick and easy hair removal that lasts long and doesn't cost you a bomb, then waxing is the way to go. While Instagram & TikTok is flooded with viral videos of men in pain while getting waxed, it really isn't an accurate picture of what waxing for men involves.
So if you've never tried waxing, here are some waxing tips and insights, from fellow men!
PAIN FACTORS
This is probably the biggest myth and could put some men off. Waxing does not have to be excruciatingly painful!
It is true that the dense and strong hair that proliferates on the male torso can be trickier to remove. If you opt for a 'back, sack and crack' waxing, it will mean some discomfort on your more sensitive skin.
It's not going to be enjoyable but it is not some macho pain-threshold test either! In skilled hands, using the right products, men can benefit from wax treatments with minimal drama.
PREPPING FOR A WAX SESSION
The best way to manage any potential issues with waxing for men is to prep properly.
This includes gently exfoliating the area a couple of days in advance. A mild soap scrub or exfoliating brush, mitt, or loofah can be used, to lift off dead skin cells and 'perk up' your hair follicles. Don't go berserk and make your skin sore or more sensitive!
WHEN YOU ARRIVE AT THE SPA
Always go into your waxing session with clean, dry skin, to help everything go more smoothly. By clean, we mean free of lotions, potions and chemicals, not just dirt!
Relax and get grounded as you undergo the treatment, as chilling makes it all far more pleasant.
WAXING FOR MEN AFTERCARE
Our spa has worked hard to perfect its waxing for men techniques, to make them a far less 'hairy & scary' experience.
It's important to follow the advice given by our experienced professionals, on such things as what products to use immediately afterwards, including applying quality male moisturising products to reduce the chance of any follow-up redness or irritation.
However, you'll be in safe hands with us, and your smooth result could mean this method of hair removal 'grows on you'. You may even pop back up for regular male waxing sessions in the future!
So if you're looking to book your first waxing session, give us a call on 04 3709706 and we'll take care of the rest!
Make an appointment at our branch at Oud Metha, Dubai or Prism Tower, Business Bay, Dubai.
Prism Tower, Business Bay, Dubai: Open from 10:00AM to 11:00PM
Call to book: 04 4203344
Oud Metha, Dubai: Open from 10:00 am to 12:00AM Midnight
Call to book: 04 3709706