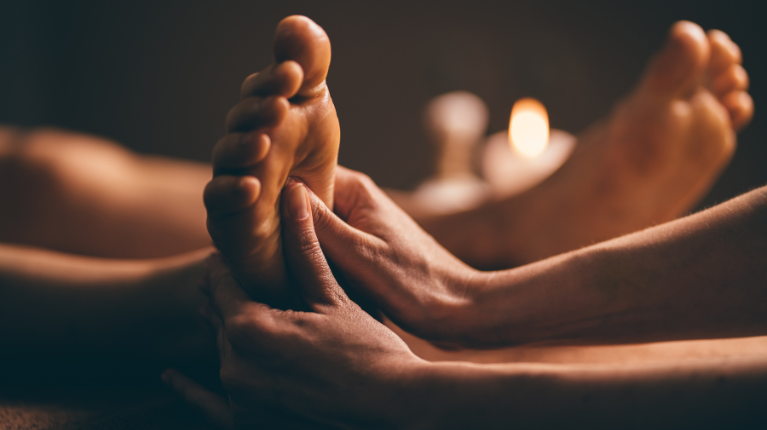 In the bustling city of Dubai, where the demands of daily life can be overwhelming, it's crucial for men to find ways to relax and rejuvenate. Cool Aroma offers a sanctuary for men seeking ultimate relaxation and healing and one of the most popular stress-relieving massage therapies is the Foot Reflexology Massage, a treatment that not only pampers the feet but also provides numerous healing benefits.
What is a Foot Reflexology Massage?
Often referred to as foot massage, Foot Reflexology is an ancient practice that traces its roots to Chinese and Egyptian civilizations. This technique is purely based on the principle that specific points on the feet correspond to specific organs and systems in the body. By applying pressure and massaging these points, reflexology can stimulate healing responses, improve circulation, and alleviate stress.
Benefits of Foot Reflexology
Foot Reflexology is rooted in the belief that your feet are a map to your body and by applying pressure to certain areas of your feet, this massage promises a number of benefits.
Stress Relief: While we may not necessarily see it, we often carry stress in our bodies as we go about our daily routines. A Foot Reflexology Massage is a powerful stress-relief tool and a great way to release built up tension. By targeting specific pressure points on the feet, this massage promotes deep relaxation resulting in the reduction in stress levels. You are bound to  leave the spa feeling refreshed and mentally rejuvenated after just one session.
Improved Circulation: Is it common knowledge that proper blood circulation is vital for overall health. Foot reflexology can enhance blood flow, thereby improving the delivery of oxygen and nutrients to various parts of the body. This can have a positive impact on energy levels and overall well-being.
Pain Management: Men who lead active lives or suffer from chronic pain can significantly benefit from regular Foot Reflexology massages. It can help alleviate pain, particularly in the feet and lower limbs through the stimulation of specific reflex points.
Holistic Wellness: At Cool Aroma, we understand that wellness is not just physical. Holistic wellness consists of a healthy balance between our emotional and mental wellbeing too. A Foot Reflexology Massage is the first step towards a holistic approach to healing, promoting relaxation, reducing stress, and enhancing the overall quality of life.
At the heart of it, the ancient practice of Foot Reflexology can do wonders when it comes to rejuvenating the body and mind, and provide a path to overall wellness. Book your appointment at one of our branches, either Oud Metha or Business Bay, today.
Business Bay: Open 10AM to 11PM 04 4203344 | Oud Metha: Open 10 am to 12AM Midnight 04 3709706
Make an appointment at our branch at Oud Metha, Dubai or Prism Tower, Business Bay, Dubai.
Prism Tower, Business Bay, Dubai: Open from 10:00AM to 11:00PM
Call to book: 04 4203344
Oud Metha, Dubai: Open from 10:00 am to 12:00AM Midnight
Call to book: 04 3709706