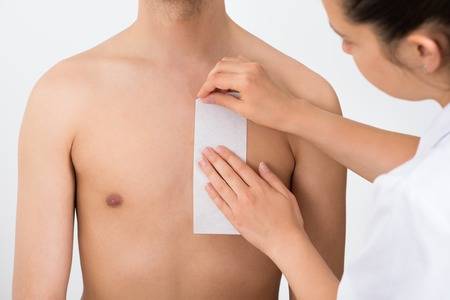 Male waxing has increased hugely in popularity over the past 10 years. It is a temporary method of removing unwanted hair from the body and results can last up to 6 weeks. Male waxing in Dubai has seen a wave of new clients thanks in part to a flourishing expat community, pool side fun and also, men being more open to trying different types of beauty treatments depending on their needs.
Why should you choose waxing?
Body waxing for men enables you to quickly and easily remove chest hair, back hair and many other types of body hair – there's even a men's full body wax if you prefer! The wax is easy to apply and easy to remove quickly. We won't lie, the initial removal of wax can be a little painful but the pain quickly subsides and becomes less the more often you have a wax. Waxing also ensures the hair grows back less thick and full meaning the more often you do it, the less hair there is each time. This is the complete opposite to shaving your chest hair where it will in fact, grow back faster and thicker! Exactly what you don't want.
Waxing preparation and aftercare you need to think about:
– Before body waxing for men, we recommend exfoliating and moisturising the chosen area for 48 hours before. This will expose finer hair making it easier to capture all the hair during your waxing session.
– During your session, trained and experienced beauty therapists will ensure you have the most professional experience and all your questions are answered.
– After your treatment, we recommend showering with cool water and staying out of direct sunlight for 24 hours. Following this, you can return to your exfoliation and moisturising routine to combat unwanted ingrown hairs.
Male waxing in Dubai is fast becoming the most wanted grooming treatment – and men are no longer wondering how to shave chest hair.
At Cool Aroma Spa, we provide an accepting and experienced environment to meet your grooming and waxing needs.
Call us now to make an appointment for male waxing in Dubai.
Make an appointment at our branch at Oud Metha, Dubai or Prism Tower, Business Bay, Dubai.
Prism Tower, Business Bay, Dubai: Open from 10:00AM to 11:00PM
Call to book: 04 4203344
Oud Metha, Dubai: Open from 10:00 am to 12:00AM Midnight
Call to book: 04 3709706