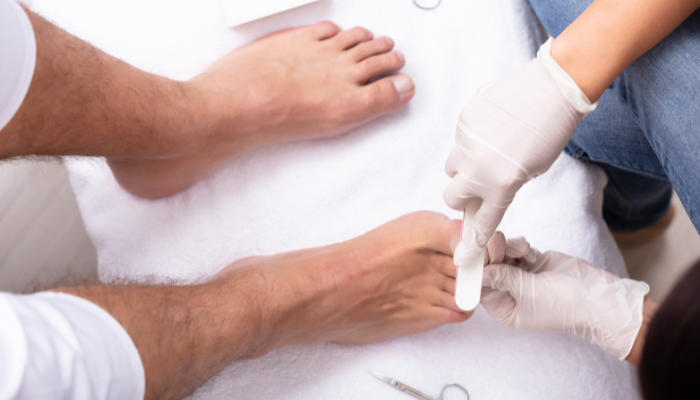 Foot grooming is an often ignored but essential part of a complete self-care regimen for men. Regular foot care immensely contributes to one's overall health as it keeps chronic foot diseases and other hygiene issues at bay. According to podiatrist, Charlton Woodly, "A lot of diseases actually manifest themselves in the feet. If you don't take care of your feet, and you lose the ability to walk without pain, it can really impede your life."
What are the benefits of a regular Pedicure?
There are many benefits of getting a regular Pedicure, some of which are listed below. Read on to find out how taking care of your feet on a regular basis is a great idea.
Improves foot health:
Dirty feet breed all kinds of germs causing bacterial infections. A pedicure ensures removal of dirt stuck under toenails as well as the exfoliation of dead skin lining the soles of the feet.
Helps combat stress:
Imagine sinking into a comfortable chair with your feet in a tub of warm water, while a therapist gently scrubs away. Yes, that's where it's at! A foot soak, which is an intrinsic part of a traditional pedicure, helps relax the mind and body.
Fights foot odour:
Pedicures are a good way to ensure removal of dead skin, dirt, and odour causing bacteria from the feet. It leaves your feet intensely moisturised and smelling like a dream!
Combats ingrown toenails:
Often, we don't put too much effort when it comes to trimming our toe-nails. This can lead to painful ingrown nails which are a nightmare to get rid of. A Pedicurist cuts toe-nails to the right length and shape with precision, ensuring no bits are left behind.
What to expect from a Pedicure?
A pedicure is a simple painless procedure that requires you to first relax into a foot soak to loosen the dead skin which is scrubbed away to reveal the soft skin beneath. After this, the therapist cuts, shapes, and buffs your toe-nails. This is followed by a scrub to exfoliate the skin before it is washed off and the beautiful benefits are then sealed in with an intensely hydrating moisturiser.
Give your feet the pampering they deserve and book a Pedicure appointment at Cool Aroma The Gentlemen's Spa today.
Make an appointment at our branch at Oud Metha, Dubai or Prism Tower, Business Bay, Dubai.
Prism Tower, Business Bay, Dubai: Open from 10:00AM to 11:00PM
Call to book: 04 4203344
Oud Metha, Dubai: Open from 10:00 am to 12:00AM Midnight
Call to book: 04 3709706