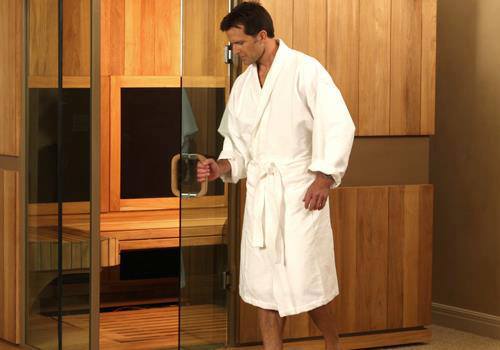 Today's the trend of spa going for men is increasing in Dubai as it is in other cities around the world.  According to Conde Nast Traveler magazine, 35% of spa goers today are men. Gone are the days when only women went to spas.  Men have realized that a spa experience offers them the physical and emotional wellbeing and relaxation that they can't find playing golf or drinking with their buddies. Men can now leave their troubles at the door and enjoy a new type of physical therapy at Cool Aroma.
Professional Grooming Has Become Essential For Men in Dubai
Cool Aroma Gentlemen's Spas offer everything from facials, manicures, pedicures, and foot massages. These are the most popular men's spa treatments because men know these are more about the necessary care and health of their skin, nails and body. Busy men in Dubai know that they need to treat themselves to the luxuries that Cool Aroma Gentlemen's Spa has to offer. They know that having someone else take care of them by exfoliating, spackling, removing body hair, clipping their finger and toenails, no longer mean's they're unmanly; it shows others that they care about grooming and how they look.
De-Stressing
Cool Aroma massage therapy for men is now a physical therapy rather than a luxury, actually improving their physical health. A massage de-stresses on another level; it's like a body overhaul—relaxing and re-energizing them at the same time. Massage therapy, in particular, is being touted as a basic physical necessity rather than a luxury. The art of massage has been practised for thousands of years, and today, more men, including the most discriminating men in Dubai, recognize the health benefits of massage.
Bodywork (massage) as a means of stress management and overall good health is a major motivator for a Cool Aroma visit.   Cool Aroma Gentlemen's Spa in Dubai offers a variety of massage styles.  From hot stone massage and aromatherapy, to deep tissue and Shiatsu massages. Some offer a dozen or more different types to suit most everyone, such as:
Foot reflexology is based on the principle that the foot is comprised of reflex points that correspond to organs, glands and other parts of the body. Foot Reflexology Massage stimulates the over 7,000 nerves in the foot to improve the health and function of these organs, glands and body parts.
Shiatsu Massage is an ancient Japanese therapy used to rejuvenate your body and provide relief from muscle pains, fatigues and weakness.  The technique used in Shiatsu Massage is a constant and even pressure that's applied to the whole body using pressing fingers and palms.
3. Head, Neck & Shoulder Massage
Many men in Dubai can spend their day sitting at their office desk, in an armchair, or in a car in traffic.  So when they need to relax they go to spa to receive a Head, Neck & Shoulder Massage.  This soothing therapy targets places on the body where tension accumulates the – the head, neck and shoulders
The Indian Head Massage is an ancient Ayurvedic (traditional Indian medicine) massage that has been used by Indian healers for centuries. Indian Head Massage is a great massage for men in Dubai who suffer from sudden or continuous headaches, pressure in the temples and in the back of the head. It uses a special technique based on pressing down on specific acupressure points to relieve psychological stress and tension.
Many men experience back pain that keeps them from participating fully in life. A Full Back Massage is a good way to relieve minor back pain.  It incorporates both light and deep strokes, alternating mild pressure and firm kneading. It targets sore muscles in the shoulders, neck, and the upper and lower back.
6. Thai Massage
Thai Massage relieves pain in the joints and muscles using a vigorous yet comfortable set of yoga-like stretches. The massage therapist stimulates different pressure points (much like acupressure) to improve circulation and internal energy. These deep and continuous strokes ease muscle pain and tension, restoring elasticity and flexibility to the muscles and tendons.
Lomi Lomi is an innovative exotic Hawaiian massage technique that's a mixture of art and science. The therapist uses mild, continuous strokes on your back, shoulders, stomach, head and arms to de-stress your body and mind, promote relaxation and inner balance.  Lomi Lomi Massage is a great stress reliever; so many men in Dubai love this type of massage.
A Hot Stone Massage will help to revive your body and spirit. It uses a mixture of exotic and traditional massage methods. Before applying warmed stones, the therapist performs a traditional massage to prepare you for the comfort of the stones.  Special attention is paid to the spine. The smooth hot stones warm up the body's deep tissues, relaxing and detoxifying the body.  They are placed on energy points to increase blood circulation through the body.
Hilot Massage is a traditional Filipino massage treatment targeting the deep tissues to promote healing of damaged muscles. Healing Hilot is also used for skeletal manipulation to treat spinal disc problems. It incorporates deep pressure, firm kneading and gentle strokes, and the use of wonderful herbal oils with herbal extracts to improve the general health of your body.
A Deep Tissue Massage combines stretching, skin rolling, palm, thumb pressure and long-stroke techniques; concentrating on the deep layers of muscles in the body. It can reduce chronic pain, relieve stress, improve blood flow, and relax your mind. A Deep Tissue Massage increases the blood flow and circulation and reduces inflammation that causes muscle pain and tension.
11. Balinese Massage
A Balinese Massage treats muscle pain and eliminates stress.  It uses a combination of acupressure, reflexology and aromatherapy, along with a deep tissue and muscular massage that heals damaged tissues, and relieves joint pain and strained muscles.
Ayurvedic Massage is a combination of native Hindu and Indian Buddhist traditions. It's a rather rough body massage where the therapist uses his or her hands, forearms and elbows. It involves traditional massage strokes, along with tapping, kneading and squeezing. However, the technique and its intensity depend on your personal condition.
13.  Ashiatsu Massage
Ashiatsu is the latest trend for massages for men in Dubai. It's an ancient art that originated in Asia and is based on a combination of Ayurvedic traditional foot massage and the best elements of barefoot Shiatsu (the therapist uses his or her feet to apply pressure) and classic Thai massage. It incorporates these techniques with stretching and stimulation of acupressure points.
Aromatherapy is a popular treatment to relax and balance your inner self, and clear your mind. It uses a combination of essential oils and relaxing massage to eliminate anxiety and help you reach a state of peace and balance. Aroma oils relieve inflammation and can energize as well as relax you, improving your sense of wellbeing.
Make Sure Your Spa is Clean and Professionally Managed
Before you make an appointment at Cool Aroma Gentlemen's Spa in Dubai, call ahead and ask any questions you might have about their services and prices.  Also go online and read about our spa ahead of time.
If you're still not convinced that a visit to Cool Aroma Gentlemen's Spa is right for you, make a "guy's-day-out" and take off to a spa with some buddies, and you'll see what all the fuss is about!
Make an appointment at our branch at Oud Metha, Dubai or Prism Tower, Business Bay, Dubai.
Prism Tower, Business Bay, Dubai: Open from 10:00AM to 11:00PM
Call to book: 04 4203344
Oud Metha, Dubai: Open from 10:00 am to 12:00AM Midnight
Call to book: 04 3709706