Quarter of males want to try facials – do you? Our recommended Facial Treatments for men inside
Posted on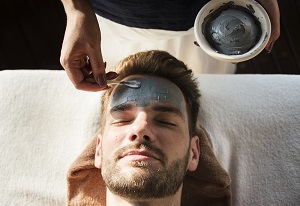 Going to a spa to enjoy a relaxing treatment and hang out with friends used to be something which only women in Dubai did. Over the years though, more men have begun to realise how amazing this can be and how much fun you can have. Facials are one treatment in particular that more males have started to indulge in. Now, it is thought that around 25% of men think about trying out a facial at some point in the future.
Of course, if you have never had one before you might wonder which are best to try out first. Here are a few of the luxurious facial treatments for men we offer that are perfect to start with.
Express facial for men
If you want to ease yourself into facials gently, why not try out our shorter express treatment first? This lasts just 30 minutes and so is ideal for you to get a quick taste of what it all involves. This is also a good facial if you lead a busy life and need a fast treatment to fit in with it. This facial will rejuvenate your skin and leave it looking much brighter. In addition, our expert team will tailor the Express Facial to your personal skin type for the best results.
Deep cleansing facial
One treatment we would highly recommend is our deep cleansing facial. This is ideal for men whose skin maybe needs a little help in looking it best and drawing out impurities. If you have problems with acne or blackheads, the anti-bacterial ingredients in the products we use will help lots. Once you have enjoyed this treatment, your skin will look smooth and feel great. This is also a great treatment to help your skin recover from the damage environmental factors do as you go about your normal life.
Hydrating men's facial
If you are looking for truly indulgent facials, this 60-70 minute option is perfect. It is primarily designed to help hydrate dry skin and give you a fresher look. Over time, your body will naturally lose collagen which can make it appear less firm. By having regular hydrating facials, you can help give your skin get back this firmness and enjoy a tighter appearance.
Men's facials in Dubai
If you are looking for the best men's facials in Dubai, Cool Aroma is the place to trust. As the premier men's spa in Dubai, our facial treatments are a great choice if you have been thinking of trying one out. Call today on 04 3709706 to book your first session. We have branches in both Business Bay and Oud Metha.
Make an appointment at our branch at Oud Metha, Dubai or Prism Tower, Business Bay, Dubai.
Prism Tower, Business Bay, Dubai: Open from 10:00AM to 11:00PM
Call to book: 04 4203344
Oud Metha, Dubai: Open from 10:00 am to 12:00AM Midnight
Call to book: 04 3709706