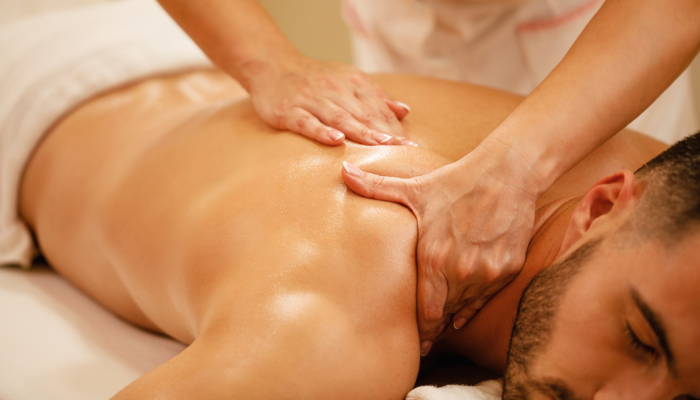 Massages are one of the most ancient traditional ways to relax the mind, body, and soul by heating soft tissues through gentle strokes and deeply nourishing oils. This aids in complete relaxation of the body and reduces anxiety, and stress while simultaneously promoting joint mobility and hydration of the skin. Read on to find out the various kinds of massages you can indulge in according to your specific requirements.
Aromatherapy massage combines multiple benefits of aromatic essential oils and a relaxing massage. Besides calming the mind and relaxing the body, essential oils have a myriad of health benefits. The therapist starts off a typical Aromatherapy Massage appointment by combining specific essential oils according to the client's needs. They will proceed to massage the oils on your body with gentle, deft strokes ensuring that the oils are absorbed by your skin. Aromatherapy is popular for its revitalizing and de-stressing benefits.
Book a 60min/90min/120min Aromatherapy Massage session for AED 220/325/420 today.
A powerful combination of acupressure, reflexology, and aromatherapy, Balinese Massage is a great massage therapy for those suffering from anxiety, depression, insomnia, and migraines. The simultaneous use of deep tissue massage and continuous gentle stroking treats muscle pain, improves blood circulation, and enhances joint mobility. Acupressure balances the body's energies and releases any pent-up blockages, thus promoting a free flow of energy throughout the body.
Book a 60min/90min/120min Balinese Massage session for AED 220/325/420 today.
Aloha, relaxation! Originated in Hawaii, Lomi Lomi massage is a 4-hands massage which massages your back, stomach, and shoulders simultaneously. The therapists use gentle strokes to increase blood circulation which aids in softening and healing the skin along with improving flexibility and elasticity while completely relaxing the mind and body.
Book a 60min/90min/120min Lomilomi Massage session for AED 220/325/420 today.
A massage technique developed and preserved in Philippines, the healing Hilot massage uses a mix of beneficial herbal oils which helps hydrating the skin and reducing muscle inflammation. This massage is most recommended for treating stiff muscles, pain relief, and detoxification in the body. It also greatly improves flexibility, fitness, and aids deep muscle relaxation.
Book a 60min/90min/120min Hilot Massage session for AED 220/325/420 today.
Whether you choose the Aromatherapy Massage, Balinese Massage, Lomi Lomi Massage, or the Healing Hilot Massage, at Cool Aroma Gentlemen's Spa, our goal is to provide you with complete relaxation of the mind and body. Regular massages are greatly beneficial to an individual's all-around well-being and simultaneously work on relaxing muscle tension along with helping reduce anxiety and the impact of modern-day stress.
Make an appointment at our branch at Oud Metha, Dubai or Prism Tower, Business Bay, Dubai.
Prism Tower, Business Bay, Dubai: Open from 10:00AM to 11:00PM
Call to book: 04 4203344
Oud Metha, Dubai: Open from 10:00 am to 12:00AM Midnight
Call to book: 04 3709706