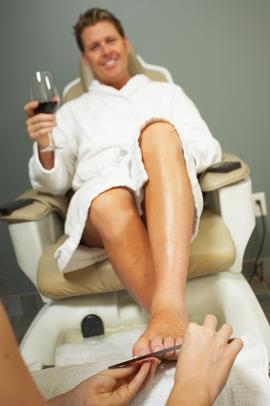 Today, men in Dubai, and other cities around the world, are scheduling regular spa appointments. Why? — Because, just like women, they value their looks, health, and vitality.
Men typically want something different than women when scheduling spa appointments. They want treatments that:
Provide Immediate Benefits: They want their skin, nails and overall appearance to look groomed and attractive.
Improve Muscular Health: Men typically tax their bodies more than women, whether it is from sports injuries or day-to-day physical stress. They need the rejuvenating effects of massage to break up scar tissue, and relax rigid muscles and tendons.
Promote The 3 Vs: Even young men seek treatments that will make them feel more vital, vibrant and virile, such as invigorating massages, and Moroccan Baths.
The most popular men's spa treatments include:
Facials. Men tend to neglect the skin on their face. Although they shave and groom their beards, they tend to use fewer products like moisturizers on a daily basis. The effect of this neglect is dry, dull, scaly skin.
Regular facials:
Remove blackheads,
Relieve redness and roughness,
Diminish the look of wrinkles and crow's feet,
Remove ingrown hairs from shaving,
Firm the skin,
Relieve allergy symptoms, and
Help men de-stress.
Manicures and Pedicures. Men tend to overwork their hands when performing tasks around the house, or when participating in vigorous sports activities. In addition, unlike women, men tend to overlook the health of their cuticles, the potential for ingrown toenails, and seriously calloused feet. With regular manicures and pedicures, a man's hands will look neat, groomed and professional in appearance, and his feet will be smooth, callous free, and much healthier.
Deep Tissue Massages: Massages are always popular with men, as they have an immediate, recognisable physical purpose. Massages help to relieve the odd nagging muscular twinge, or more serious pull. The right massage will treat the root of these problems, and leave a man feeling back in control of his body.
Moroccan Baths. What could be more luxurious and cleansing than a room with warm, soothing steam? Heated rooms, like those in Moroccan Baths, have long been a tradition in various cultures for years. From Turkish baths to Native American steam lodges, this type of treatment is popular with men for various reasons.
A Moroccan Bath:
Improves the elasticity and clarity of the skin,
Balances the skin's oil secretions,
Controls acne,
Refines the texture of the skin by removing the dead skin layer,
Rehydrates the skin, and
Alleviates redness and flakiness.
So gentlemen, just like the woman in your life, you deserve the healing and rejuvenating effects of a spa treatment. You will soon see how enjoyable it is to go to a spa and indulge in some masculine treatments.
Make an appointment at our branch at Oud Metha, Dubai or Prism Tower, Business Bay, Dubai.
Prism Tower, Business Bay, Dubai: Open from 10:00AM to 11:00PM
Call to book: 04 4203344
Oud Metha, Dubai: Open from 10:00 am to 12:00AM Midnight
Call to book: 04 3709706