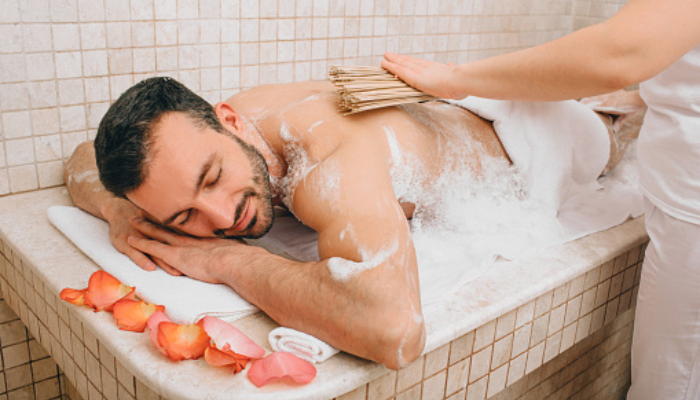 Hamam Maghrab, also known as a Moroccan bath, is a traditional cleansing practice which may have a range of health and cosmetic benefits. Discover what it involves and the top 5 benefits of a Moroccan bath below:
The three-step process of a Moroccan bath includes lathering, steaming and scrubbing. In a private setting, a practitioner will use a soap to lather across your body, followed by a relaxing session in a steamy environment to help open the pores. Next, they will gently exfoliate your skin using a scrub to remove dead skin cells and toxins.
The benefits to the body and mind include:
1. Helps balance skin pH
The process of exfoliation can help remove dead skin cells and stimulate cell regeneration. If you have skin conditions such as dry or oily patches, acne or superficial blemishes, then it's recommended that you book a Moroccan bath treatment for skin exfoliation at Cool Aroma in Dubai.
This is an excellent way to balance your skin's oil secretions and support its healing processes by removing a build-up of dead cells. Since the process uses a natural exfoliant treatment, it avoids the use of harsh chemicals or abrasives, making it kind to the skin.
2. Provides deep cleansing
The often harsh Dubai climate can negatively impact your skin, especially exposed areas like your face, neck and arms. One suitable remedy to help rejuvenate skin is a Moroccan bath for deep cleansing.
The steaming phase of a Moroccan bath is a superb way to open up and cleanse your pores by drawing out impurities. This treatment can also improve skin elasticity and hydration, making it appear younger and tighter while also smoother and more vibrant. When paired with suitable products, this treatment can also cleanse and revitalise your scalp for healthy hair too.
3. Improves blood circulation
One of the reasons Hamam Maghrab is such a wonderful way to improve your skin and scalp health is because the lathering and exfoliating actions help to stimulate the flow of blood throughout the skin and body.
Regularly enjoying a Moroccan bath at our Dubai spa can support healthy blood circulation which in turn helps to oxygenate your body more efficiently. The result is a fresher appearance and the absorption of more nutrients into your skin.
4. Promotes relaxation
One of the many reasons this time-honoured tradition is an increasingly popular option at Cool Aroma is that it's wonderfully therapeutic.
Arranging a Moroccan bath for relaxation is the perfect way to take some much-needed time for yourself, particularly as a welcome break from a busy and high-pressure lifestyle. If you enjoy regular high-intensity training, then Moroccan baths can also play a key part in your recovery process.
5. Prepares the skin for other treatments
Finally, the benefits that a Moroccan bath has for cleansing and exfoliating your skin also mean it's the perfect primer to make other treatments more effective. These can include facials, waxing and pain-relieving massages.
Book your next Moroccan bath for men in Dubai at Cool Aroma, The Gentlemen's Spa, where we also offer a range of other treatments to help combat signs of ageing, provide stress relief or health improvement. Contact our helpful team today.
Make an appointment at our branch at Oud Metha, Dubai or Prism Tower, Business Bay, Dubai.
Prism Tower, Business Bay, Dubai: Open from 10:00AM to 11:00PM
Call to book: 04 4203344
Oud Metha, Dubai: Open from 10:00 am to 12:00AM Midnight
Call to book: 04 3709706