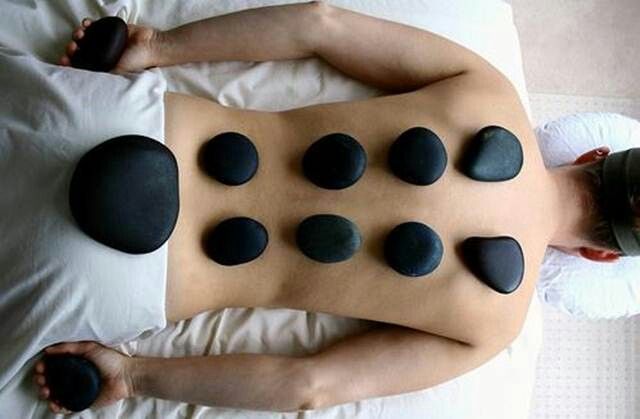 Anyone who has ever tried a hot stone massage will know that it is one of the most relaxing massages around. Due to the warmth of the stones, most people find it to be extremely comforting and relaxing. However, the benefits of a hot stone massage go significantly beyond just 'relaxation'.
Heated smooth, flat stones are placed on key points on the body during this massage, and are sometimes also used to massage certain areas of the body. The hot stones are usually made of basalt, a type of rock that is rich in iron, so they retain heat. The stones are immersed in water and heated in an electric heater until they are within a certain temperature range. The placement of the stones is usually at specific points on the back, in the palms of the hand, or between the toes but may vary depending on the client's condition.
The heat of the stones warm and relax the muscles, which allows the therapist to apply deeper pressure, and also helps improves circulation and calms the nervous system.
Since it combines thermotherapy with massage techniques, the hot stone massage is an effective healing therapy. The localized placement of heat on a particular area increases circulation of fluids, and can assist in alleviating organ congestion and may even dissolve masses. Furthermore, when placed along meridian points, they can assist in removing energy blockages that lead to the development of disease, illness and cancers. Some other benefits include:
Lymphatic drainage and cleansing
Decongestion of the liver by relaxing ducts
Relaxes colon for better elimination
Detoxifies blood with sweating much the same as a sauna
Helps with hydrating and flushing cells Improves circulation
Relaxes muscles, soothes aches
Increases range of motion in joint movement
Relieves stress
Why not try this treatment in our December Offer of the Month? Get a 90 min Hot Stone Massage for AED 240 only! Original price AED 300. Book your appointment today by calling 04 370 9706
Make an appointment at our branch at Oud Metha, Dubai or Prism Tower, Business Bay, Dubai.
Prism Tower, Business Bay, Dubai: Open from 10:00AM to 11:00PM
Call to book: 04 4203344
Oud Metha, Dubai: Open from 10:00 am to 12:00AM Midnight
Call to book: 04 3709706