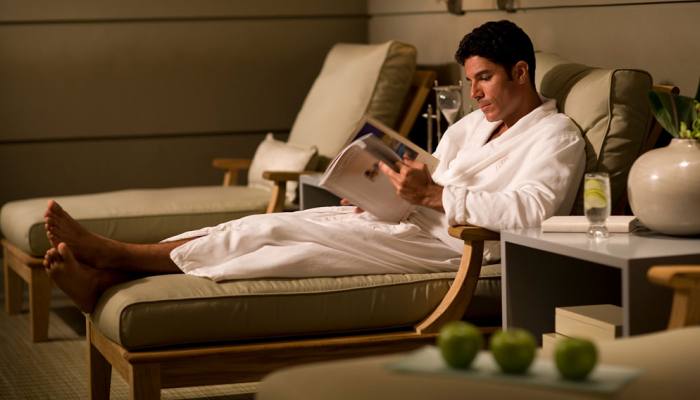 1.  Be An Early Riser.
President Obama wakes up early to squeeze in a workout before going to the Oval Office at 8:30 a.m. Disney CEO Robert Iger gets out of bed each morning at 4:30 a.m. to just enjoy some quiet time.  Apple CEO Tim Cook is known for getting up and sending out company emails by 4:30 in the morning.  Men who get an early start, are more productive than those who sleep late.
2.  Get Moving.  
Cardiovascular training improves your success by giving you more energy, stamina, strength, and by improving your overall fitness.  Engage in an activity each day like swimming, running, or cycling, anything that increases your heart rate.
3.  Train Your Brain.
Successful men continue to invest in learning, and mentally challenge themselves.  They also surround themselves with people who can challenge their way of thinking. Take 30 minutes each day to train your brain by thinking critically and creatively. Ask your employees, teammates or friends to challenge you to a debate, about anything, not just work-related subjects.
4. Eat a Healthy Diet.
The saying, "You are what you eat," is true. Eating healthy is one of the greatest things you can do to revolutionize your success.  It will increase your mental clarity, productivity, energy, and vitality.
5. Get Regular Massages.
If you want to maintain your focus on the tasks at hand, and stay motivated, regular massages will help you do this.  Massage increases the production of serotonin and endorphins, which elevate your mood and drive.  Plus, massage can drastically improve your sleep quality.   And when you get a good night's sleep, you can better concentrate when you are awake.
6. Just Say "No."
Successful people are good at saying no to the mundane factors that hold them back. Use your brain and energy to focus on your goals, and say no to anything that distracts you.
7. Invest In Your Personal Growth.
Every successful man values his personal development.   Whether you do this on your own, with a counselor, or through a personal-development program, it will be the ticket to your success.  It will help you turn failures into gains, virtualize your success, set goals, and develop action plans to help you reach them.
8. Live in the Present.
Men who live in the moment, can more easily make decisions, take actions, effectively focus, and are not distracted by fears of the future, or regrets from the past. Think in the now, act in the now, and experience your life as it happens.
9. Keep Things Simple.
Keep things simple, and your work life uncluttered.   Adopt the "clean inbox strategy."  This is just like clearing your desk after completing a project. Once you read an email, decide if it needs attending to, deal with it, and then either file it or trash it.    Successful men limit the time they check their email to only a few times per day to stay focused on what is important.
10. Surround Yourself With Positive People.
When you say no to the negative people in your life, and surround yourself with the "can-doers" you will find ways to make things happen.  Persistence is the key to success, and to be persistent you need to stay positive.  Positive people will also support your efforts and improve your self confidence.  Something all men need, even the successful ones.
Make an appointment at our branch at Oud Metha, Dubai or Prism Tower, Business Bay, Dubai.
Prism Tower, Business Bay, Dubai: Open from 10:00AM to 11:00PM
Call to book: 04 4203344
Oud Metha, Dubai: Open from 10:00 am to 12:00AM Midnight
Call to book: 04 3709706