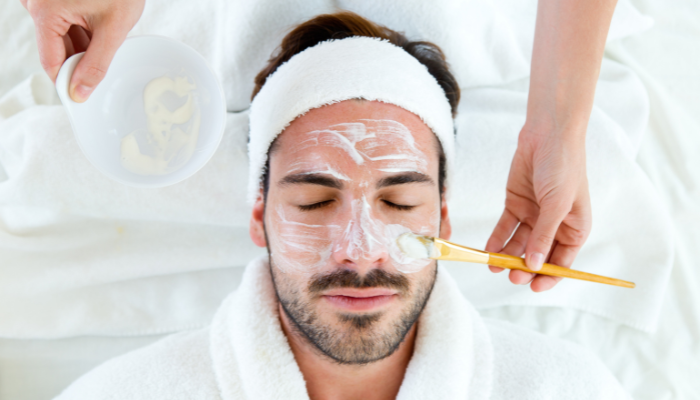 We're constantly on the lookout for ways to improve our appearance and skin health. While facials may once have been the preserve of women, the benefits extend to men too. In this article, we explore why facials are beneficial for men and how different facials tackle different problem areas.
Is a facial good for male skin?
Men's faces go through many different environmental stressors that can negatively impact their skin. Shaving is the most common, causing the potential for ingrown hairs, clogged pores and rough patches. Other men may suffer from excess sweating, acne and oiliness. What's more, the intense Dubai climate can leave skin dehydrated, stressed and blemished.
Since the face is typically the first thing others see, it's beneficial to seek advice and targeted treatments from a trained professional. Facials are the perfect skincare maintenance treatment for anyone wanting to invest in their appearance. They involve a skin assessment, cleansing, light exfoliation, toning and hydration. As they also offer a moment to pause and care for yourself, another big benefit is booking a facial for men for relieving tension after a busy day or week.
3 targeted facials for men
There are a number of facials on offer at Cool Aroma, The Gentlemen's Spa, that specifically target common skincare issues men experience. These include:
1. The deep cleansing facial
Deep cleansing facials are recommended for men who have large pores and experience excess oiliness. As oily skin types are prone to blackheads and acne breakouts, these facial treatments usually incorporate antibacterial agents to help calm the skin, cleanse and tighten the pores.
The results of deep cleansing facials are also improved circulation leading to a smoother, more youthful-looking complexion – ideal if poor diet or sun exposure have led to signs of premature ageing.
2. The galvanic rejuvenating facial
If visible signs of ageing and fatigue are a problem for you, then the galvanic rejuvenating facial could help improve your appearance. Alongside removing dead skin cells to help the skin appear smoother and softer, this anti-ageing facial uses a gentle electric current to help with circulation and the absorption of key ingredients throughout the deeper layers of the skin.
By penetrating into the depths of the skin, galvanic facials can help to reduce visible wrinkles and fine lines, add firmness to sagging skin and improve skin elasticity. It's the ideal treatment whether you want to focus on a problem area or full coverage.
3. The hydrating facial
As your skin is exposed to harsh environmental triggers such as UV rays, heat, pollution and shaving, it can become dry, rough and flaky. This can accelerate visible signs of ageing as it loses elasticity and is more prone to developing wrinkles.
If you're looking for best facial treatment for hydration in Dubai or a facial for calming skin from shaving, then hydrating facials are the ideal solution. They add moisture to the deeper levels of the skin, helping to combat cell damage and prevent signs of premature ageing, while also providing a more youthful, fresher and plumper appearance at the skin's surface.
For a consultation on the best facial for you, or to book a facial for men in Dubai at Cool Aroma, The Gentlemen's Spa, get in touch today.
Make an appointment at our branch at Oud Metha, Dubai or Prism Tower, Business Bay, Dubai.
Prism Tower, Business Bay, Dubai: Open from 10:00AM to 11:00PM
Call to book: 04 4203344
Oud Metha, Dubai: Open from 10:00 am to 12:00AM Midnight
Call to book: 04 3709706