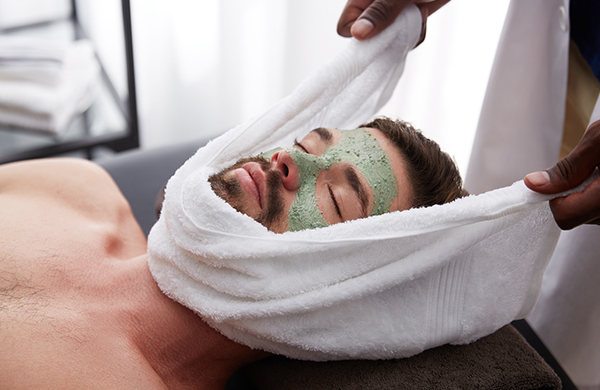 Getting a deep cleansing facial can yield a lot of benefits for any man. Besides keeping your skin clear, a deep cleansing facial can also help reduce fine lines, rehydrate the skin and limit breakouts. However, going for a deep cleansing facial may seem intimidating, especially if you don't know what to expect. Here we're going to look at what you can expect from a men's deep cleansing facial.
Step 1 – Cleansing
The first thing that happens will be a thorough cleansing of the skin. The deep cleanser used will be specifically chosen to suit your skin condition and skin type.
Step 2 – Exfoliating
Next, the therapist will take off the top layer of your skin. This is usually the dead and clogged up skin that dulls your complexion. Taking away this layer exposes the brighter skin underneath, instantly adding a youthful glow to your face.
Step 3 – Steaming
Applying steam to the face opens up the pores. These open pores are ready to absorb the serums and mask the therapist will soon be applying.
Step 4 – Extracting
Any whiteheads, blackheads and pore blockages will be extracted by the therapist.
Step 5 – Massaging
If you have any skin conditions, the therapist may use this time to apply a soothing serum that will help. These lotions and potions are applied either through a facial massage or pressure point massage.
Step 6 – Applying a mask
Your therapist will have mapped your skin before the treatment. Through mapping, they will know the exact ingredients to add into your mask to treat any skin conditions you have. These ingredients absorb deeply into the layers of the skin.
Step 7 – Toning
After the ingredients of the mask have been absorbed into the skin, the therapist will apply a toner. This closes up the pores and will give your skin a more even appearance and texture.
Step 8 – Moisturising
A moisturiser defends the skin against environmental and sun damage. Once again the moisturiser used will be based on the condition of your skin and your skin type.
Remember that if you want to keep your skin clear & even, go for a deep cleansing facial at Cool Aroma Spa at least once a month. This is especially true if you live in a city with high levels of pollution that can clog the skin.
Make an appointment at our branch at Oud Metha, Dubai or Prism Tower, Business Bay, Dubai.
Prism Tower, Business Bay, Dubai: Open from 10:00AM to 11:00PM
Call to book: 04 4203344
Oud Metha, Dubai: Open from 10:00 am to 12:00AM Midnight
Call to book: 04 3709706