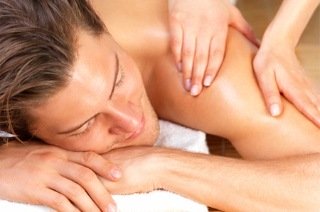 In today's fast-paced world, it is increasingly difficult to for men in Dubai to find the time for quiet reflection.  Over time, this can manifest in stress, tension, muscle and joint pain, sleepless nights and depression.
Scientific studies have shown that regular massage therapy can lead to an increase in happiness:
How Does This Work?
Regular massage actually lowers stress hormone levels, enabling you to slow down and achieve a state of emotional well being.
During massage, large amounts of endorphins are released into the bloodstream.
This release of endorphins contributes to mood enhancement and a positive feeling in the body.
Massage increases levels of serotonin in the brain, which elevate mood. We have approximately 40 million brain cells, and most are affected either directly or indirectly by serotonin. This includes brain cells related to happiness.
Massage influences the diameter of blood vessels and direction of fluid flow.  It changes the chemical balance in the body, increasing certain hormone levels and lowering others, and can alter neurotransmitter secretions.
The psychological benefit of feeling cared for with the direct physical effects of massage produce a wonderful feeling that is difficult to match.  Even your massage therapist, when providing massage, can experience the same soothing feeling as you do, simply through the healing effects of touch.
This explains why you experience a feeling of happiness after a massage after a massage at Cool Aroma Gentlemen's Spa.  You will leave with a very different physiology and state of mind, than when you arrived.  
Make an appointment at our branch at Oud Metha, Dubai or Prism Tower, Business Bay, Dubai.
Prism Tower, Business Bay, Dubai: Open from 10:00AM to 11:00PM
Call to book: 04 4203344
Oud Metha, Dubai: Open from 10:00 am to 12:00AM Midnight
Call to book: 04 3709706