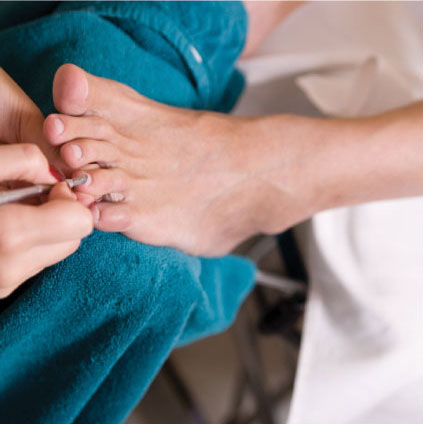 Today as men are paying closer attention to their looks, more of them are coming to Cool Aroma Gentlemen's Spa to have regular pedicures. Gone are the days when only women in Dubai had pedicures.  Now, more men are coming to Cool Aroma than ever before to have their feet and toe nails professionally groomed. A pedicure with a soothing foot treatment is a wonderful, relaxing treat.
During a pedicure at Cool Aroma your feet are immersed into a soothing, warm aromatic footbath that contains a solution of soaps, oils and minerals to soften calluses and rough skin.  After a nice soak, our pedicure professional scrubs your feet to remove calluses and rough skin. Dry skin on your soles will also be removed using a special skin removal tool and then gently sanded.
If you wish, a foot mask will be applied to your feet and gently massaged to remove dry skin.  Then warm towels are applied to enhance its effect and remove the mask.
Your toenails will then be cut to your preferred length and overgrown cuticles are gently removed.  Your nails are then filed evenly and smoothly and buffed to produce a smooth sheen.
Afterwards a special nail serum is applied to moisturize and improve your nail health. And the last luxurious finish is a moisturising foot cream that is gently massaged into your feet. Your feet will be tingling with pleasure.
 A Wonderful Treat —Paraffin Foot Wax Treatment
In addition to your pedicure, you can opt for a paraffin foot wax treatment.  Your feet are immersed into a warm paraffin bath.  When the wax dries, it's removed, leaving your feet as soft as a baby's.  A paraffin treatment also has health benefits, as it increases the blood flow to your feet and reduces toe and joint stiffness.
For more information about pedicures and foot treatments for men, visit Cool Aroma Gentlemen's Spa in Dubai.
Make an appointment at our branch at Oud Metha, Dubai or Prism Tower, Business Bay, Dubai.
Prism Tower, Business Bay, Dubai: Open from 10:00AM to 11:00PM
Call to book: 04 4203344
Oud Metha, Dubai: Open from 10:00 am to 12:00AM Midnight
Call to book: 04 3709706