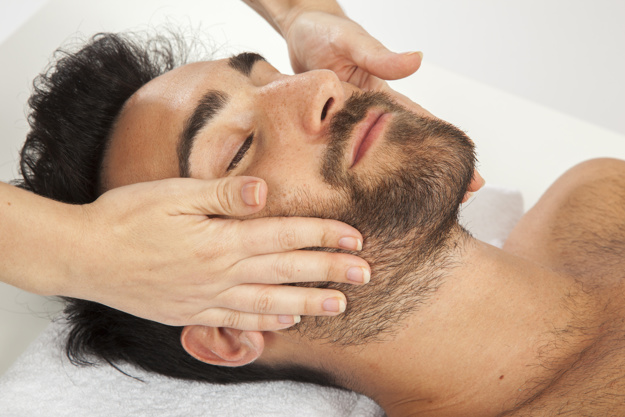 While our skills, education, and fierce ambition propel us to success, we cannot discount how important our skin is. Your face is the first thing that people see, so keeping yourself looking fresh is a vital part of engaging with others.
Once your skin loses elasticity, this can make you look more tired, older, and damage your confidence.
How can you feel more confident in your own skin? Could a facial help?
Urban skin damage
Living in an urban area is great for your work and social life. However, the urban man knows that the environment, pollution and simply living a busy life can cause your skin to feel dry and age faster. This can leave you feeling less bright and young than you would like.
What is a Galvanic Rejuvenating Facial?
This is an amazing anti-ageing facial for men, which can be used to target problem areas or the entire face. The Galvanic Rejuvenating Facial is known as one of the most effective anti-ageing facials around, using galvanic currents to stimulate the skin. Vital ingredients are able to go deep into your skin, to provide a treatment that is not just surface-level – hence the incredible effects.
Ideal for any busy man on the go, this facial is a great non-invasive way to fight the ageing process.
Get your glow back
The Galvanic Rejuvenating Facial can help to ease your sagging skin and reduce your wrinkles. It is also the perfect way to relieve tension that you may carry around your forehead and eye area, which can lead to premature ageing. In removing dead skin cells, the facial purifies your face.
After your facial is complete, you will find that your skin has improved elasticity and smoothness, with a firmer feel that gives you the young, glowing face you want.
If you are ready to delay the ageing process with a Galvanic Rejuvenating Facial, you won't want to delay in visiting the Cool Aroma Spa. An exclusive space for men, you can expect a calming, reviving experience that will leave you looking and feeling your best.
Contact Cool Aroma – The Spa for Men
If you are interested in booking an appointment, contact Cool Aroma on 04 3709706 or book online through our website or WhatsApp us on 056 6780505. We have branches of our men's spa located in Business Bay and Oud Metha.
Make an appointment at our branch at Oud Metha, Dubai or Prism Tower, Business Bay, Dubai.
Prism Tower, Business Bay, Dubai: Open from 10:00AM to 11:00PM
Call to book: 04 4203344
Oud Metha, Dubai: Open from 10:00 am to 12:00AM Midnight
Call to book: 04 3709706