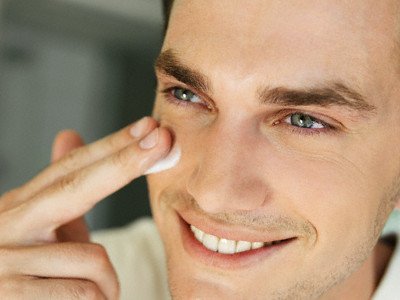 Men don't always age gracefully. The skin on your face can make you look older than you are. The good news is that our Anti-Aging Facial will erase the years.
If you are like most men, you want a firm, young-looking complexion. But you don't want to undergo invasive surgery or painful laser treatments.  If you believe your complexion is making you look older than you are, or you just want a brighter, more youthful appearance, an Anti-Aging Facial from Cool Aroma is the answer.
Men typically start getting anti-aging facials when they are in their 30's. But you can have them at any age, and you should if your skin is already showing signs of aging. The sun, wind, salt air and other elements can age your skin more quickly than normal. This, plus the lines and creases from your facial expressions will make you look much older than you are.
As you age, you may notice that your skin is rough, thinner than it used to be, and wrinkles have begun to form.  This is because you are losing collagen and elastin in your skin.  This happens naturally as you age.  It slows down the reproduction of healthy skin cells and makes your face look worn, rough and aged.
But we have good news for you.  An anti-aging facial for men at Cool Aroma Gentlemen's Spa in Dubai includes all the steps of a basic facial but incorporates special anti-aging therapies that target a man's mature skin.  These rejuvenating products exfoliate the dead skin cells and provide nourishment to promote clear, well-hydrated, more youthful looking skin.
Cool Aroma uses only the best international, clinically proven anti-aging products.  Some of these include: Dr. Renaud®, Forever Living Product® and Nu Skin®. You will see an immediate effect after your first facial.  Your face will feel firmer, smooth to the touch and wrinkles will be less noticeable. When these powerful anti-aging facials are performed regularly, they will keep your skin healthy, young and rejuvenated.
Call to book your anti-aging facial at + 971 4 370 9706.
Make an appointment at our branch at Oud Metha, Dubai or Prism Tower, Business Bay, Dubai.
Prism Tower, Business Bay, Dubai: Open from 10:00AM to 11:00PM
Call to book: 04 4203344
Oud Metha, Dubai: Open from 10:00 am to 12:00AM Midnight
Call to book: 04 3709706