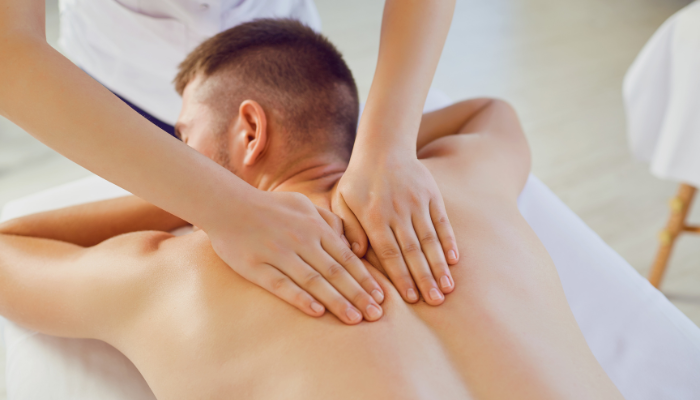 What is Balinese Massage?
Rooted in traditional medicine of Southeast Asia, India, Thailand, and China, the Balinese massage originated in Bali- a province in Indonesia. It is a combination of diverse techniques that culminate into one relaxing therapy.
Typically, the Balinese massage technique is a full-body treatment. It starts with gentle stretches followed by stimulation of pressure points using stronger strokes. This promotes lymphatic draining as well as blood circulation in the body. 
Before starting the massage, the therapist focuses on creating a relaxing atmosphere for the patient so they can ease into the treatment with a relaxed and calm mind. The Balinese massage technique is made more effective by the use of fragrant oils which soothe sore muscles and boosts moods. Oils like Orange, Lemongrass, Rose, and Lavender are some popular oils used by Balinese massage therapists.
The Balinese Massage treatment promotes good mood, reduces stress, and stimulates blood circulation besides moisturising and nourishing the skin. It is a great massage to opt for if you are looking for an hour's worth of deep relaxation of the mind and body.
What is Deep Tissue Massage?
Deep Tissue Massages are preferred by those who wish to treat chronic pain. It is also heavily endorsed by sportsmen. Deep Tissue Massage therapists use a slightly aggressive form of massage where the therapist uses their elbows, forearms, and palms to apply increased pressure to the affected areas. It is an intensely relaxing treatment that is used to treat muscle soreness and joint stiffness. In a typical session, the therapist focuses on pressure points that relieve pain and soothe muscles. 
The Balinese Massage is a relaxing massage that uses fragrant essential oils and gently kneads away stress from the scalp to toe. A Deep Tissue Massage on the other hand, is characterised by strong therapeutic strokes which deal with chronic muscle pain and joint stiffness. Both treatments are highly beneficial in their own right depending on your needs. Book a massage treatment at Cool Aroma today and sink into an hour of deep relaxation.
Make an appointment at our branch at Oud Metha or Business Bay. 
Business Bay: Open 10AM to 11PM 04 4203344 | Oud Metha: Open 10 am to 12AM Midnight 04 3709706
Make an appointment at our branch at Oud Metha, Dubai or Prism Tower, Business Bay, Dubai.
Prism Tower, Business Bay, Dubai: Open from 10:00AM to 11:00PM
Call to book: 04 4203344
Oud Metha, Dubai: Open from 10:00 am to 12:00AM Midnight
Call to book: 04 3709706