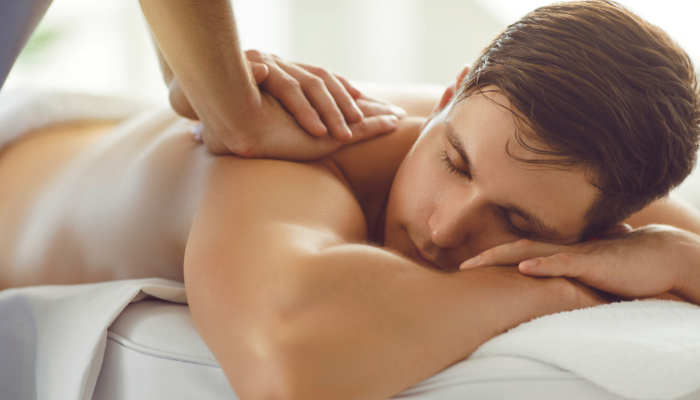 Are you looking for the best massage therapy for men in Dubai? Lets help you explore two of our best selling massage treatments – Balinese and Aromatherapy
The Balinese massage
This is a deep tissue massage which uses a variety of gentle stretching and reflexology, along with acupressure. Aromatherapy is also used during the Balinese massage, and this combination of techniques stimulates your blood flow and the energy in your body (your "qi"). Your therapist will focus on your pressure points and knead your body, using essential oils to create the full experience. This Indonesian massage for men in Dubai is extremely popular.
Balinese massage benefits
It is used largely to ease pain in damaged tissues, muscles and joints. Balinese massage for muscle relaxation is very helpful for those who feel tense. Increasing the blood and oxygen flow around your body is also extremely beneficial for relieving stress, especially when combined with relaxing and mood-improving aromatherapy oils, making it a good anti-anxiety massage for men. In some cases, Balinese massage can also be used for injuries caused by sport, due to the deep pressure applied.
The Aromatherapy massage
While aromatherapy is used in conjunction with many different types of massage, a dedicated Aromatherapy massage means that a variety of essential oils will be used during your massage. During Aromatherapy for relaxation and stress relief, oils can be used with a diffuser and applied to your skin during the massage itself. It can be used with a deep tissue massage or a hot stone massage.
Benefits of Aromatherapy massage
During this treatment, we use a variety of different oils to help improve your mood – orange, for example, is a brightening and uplifting oil. You will also feel some relief from aches, muscle tension and soreness, making this a good pain reliever massage. Aromatherapy for men in Dubai is growing in popularity, especially for those with busy and stressful lives.
Have you decided which detox massage might be right for you? If you want a high-quality relaxation massage then book yours with Cool Aroma Gentlemen's Spa through our contact form.
Make an appointment at our branch at Oud Metha, Dubai or Prism Tower, Business Bay, Dubai.
Prism Tower, Business Bay, Dubai: Open from 10:00AM to 11:00PM
Call to book: 04 4203344
Oud Metha, Dubai: Open from 10:00 am to 12:00AM Midnight
Call to book: 04 3709706