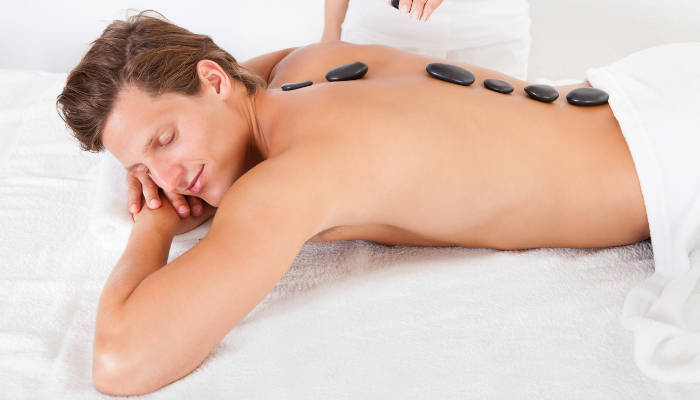 A typical Hot Stone massage session is where you walk in with stiff and sore muscles and walk out deeply relaxed and recharged for the week ahead. So, what's so special about this therapy? Read on to find out.
What is Hot Stone Massage Therapy?
Believed to have originated in China almost 2,000 years ago, Hot Stone massage therapy uses the technique of placing hot Basalt stones on specific parts of the body following a traditional massage. These stones are smooth and flat and chosen because they are known to retain applied heat.
To warm them, these Basalt stones are submerged in hot water and then placed on the body. The most common areas are the back, the stomach, the hands, the face, and the feet. Therapists massage the body with these hot stones to promote deep relaxation in the body.
What are the benefits of Hot Stone Massage Therapy?
Pain Relief:
Along with aiding deep relaxation, Hot Stone Massages are known to bring pain relief for people suffering from sore muscles and stiffness in the body and improving range of motion.
Stress Relief:
Hot Stone Massage is a wholesome therapy that helps relieve stress and calms the mind.
Increases flexibility:
This therapy starts with a traditional massage where the therapist uses pressure to knead away stress from specific pressure points on the body. Following this, hot stones are placed on the body which helps relax and improve blood circulation and flexibility.
Decreases spasms:
Hot Stone Massage therapy reduces muscle inflammation and helps manage muscle spasms and pain.
Improves Sleep:
Hot Stone Massage Therapy deeply relaxes the body and promotes better sleep. This is especially beneficial for those suffering from stress and insomnia.
What to keep in mind for your first Hot Stone Massage Therapy?
Always choose a spa with licensed practitioners and good hygiene.
Talk to your therapist about the pressure of their hands and keep them informed if the hot stones are too hot or only lukewarm.
If you are in doubt about whether Hot Stone Massage Therapy is right for you, get an expert opinion from your doctor.
If you are looking for a spa in Dubai that offers a great Hot Stone Massage Therapy session, book an appointment at Cool Aroma The Gentlemen's Spa.
Make an appointment at our branch at Oud Metha, Dubai or Prism Tower, Business Bay, Dubai.
Prism Tower, Business Bay, Dubai: Open from 10:00AM to 11:00PM
Call to book: 04 4203344
Oud Metha, Dubai: Open from 10:00 am to 12:00AM Midnight
Call to book: 04 3709706