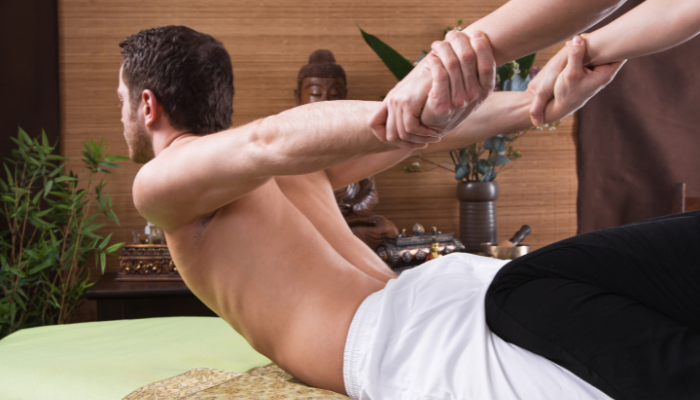 Today's fast-paced world comes with its own share of stress and negative energies. These take a toll on an individual's mental and physical health and often lead to serious illnesses like depression, hypertension, high blood pressure, and cardiovascular problems.
Thai Massage therapy uses gentle pressure and stretching techniques to relax, recharge, and invigorate the body. Recently, Thai Massage has gained immense popularity as a massage therapy with many health benefits like improved blood circulation, reduced stress-levels, and improved range of motion in the body.
Read on to find out more about the benefits of Thai Massage therapy.
Energy boost: The practice of Thai Massage is based on Sen. Energy channels in the body are called Sen. These channels affect the bones, muscles, blood, nerves, as well as the body's consciousness and mind. Blockages in the Sen are believed to hamper the flow of life. Thai Massage helps release these blocks and promotes the flow of energy in the body.
Relieves chronic headaches: Thai Massage applies gentle pressure on specific energy points which helps in relieving chronic stress-related headaches.
Promotes blood circulation: Through gentle stretches, Thai Massage promotes blood circulation, cell regeneration, relaxation, and heart health.
Improves range of motion: As the therapist applies gentle pressure on energy centres of the body, it stretches and relaxes sore or strained muscles, leading to improved range of motion. Thai Massage is especially recommended to athletes for this same purpose.
What can you expect from a Thai Massage therapy session?
In a Thai Massage Spa session, the client is asked to lie on a flat surface. This enables the therapist to practice gentle stretches and manipulate their client's body into yoga-like postures. While this technique is safe, clients are encouraged to speak up if they feel any pain. It is also recommended that the client keep the therapist informed about any prior medical history to avoid any discomfort.
A typical Thai Massage also uses energy-work to release pent-up blockages in the body through application of gentle pressure.
If you are looking for a Thai Massage in Dubai, look no further than Cool Aroma. Make an appointment at our branches at Oud Metha or Business Bay.
Business Bay: Open 10AM to 11PM 04 4203344 | Oud Metha: Open 10 am to 12AM Midnight 04 3709706
Make an appointment at our branch at Oud Metha, Dubai or Prism Tower, Business Bay, Dubai.
Prism Tower, Business Bay, Dubai: Open from 10:00AM to 11:00PM
Call to book: 04 4203344
Oud Metha, Dubai: Open from 10:00 am to 12:00AM Midnight
Call to book: 04 3709706