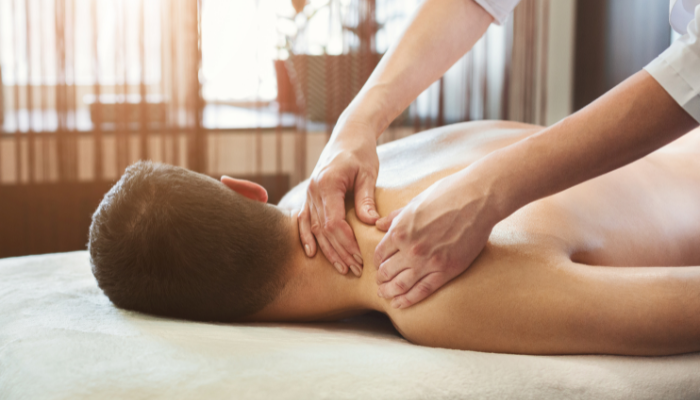 A massage is not just a matter of luxury anymore. It has quickly gained momentum to become an important part of an individual's holistic wellbeing. Apart from loosening tight muscles, addressing nerve decompression, and reducing symptoms of anxiety, stress, and depression, body massages for men greatly improve the quality of one's life and general health. What are the best body massages to include in your self care routine?
Lymphatic Drainage Massage:
A Lymphatic drainage massage is one of the most beneficial massage techniques which help detoxify, rejuvenate, and recharge the body. The Lymph nodes are like the body's drainage system. They get clogged by emotions, anxieties, or a poor diet. Overloaded lymph nodes lead to water retention as the body finds it difficult to flush out the inflammation. A lymphatic drainage massage stimulates the lymph nodes and removes all the toxins from the body, felicitating elasticity, flexibility, and toning.
Thai Massage:
Similar to a Lymphatic massage, a Thai Massage aids in the detoxification of the body by regulating the energies and creating a balance in the body's energies. The therapist uses a combination of intense body stretching and gentle massage strokes to improve flexibility, relax, and stimulate circulation.
Deep Tissue Massage:
A deep tissue massage focuses on the deepest layers of muscle which helps the body relax and recover. It is the most recommended massage for those suffering from muscle tension, sports injuries, or chronic joint pain.
Popular celebrity and writer Robin Sharma's 5 AM Club preaches the importance of adding a massage into your monthly wellbeing routine. He is a firm believer that a massage is an investment in one's body. He talks about massage therapies being expensive but quickly comes to its defense by stating how a trip to the doctor is more expensive. In his words, "I take a massage each week. This isn't an indulgence, it's an investment in your full creative expression/productivity/passion and sustained good health."
Apart from providing a host of benefits to the body, massages do wonders for mental health. Regular massages are a great way to ensure that your mind and body are in sync. It is also an absolutely great way to balance the body's energy flow and promote all around wellbeing.
If you are looking for a reason to include a massage into your wellness routine, it is time to explore and choose from the range of massages for men at Cool Aroma Gentlemen's Spa. Book an appointment today and experience the benefits of massage therapy.
Make an appointment at our branch at Oud Metha, Dubai or Prism Tower, Business Bay, Dubai.
Prism Tower, Business Bay, Dubai: Open from 10:00AM to 11:00PM
Call to book: 04 4203344
Oud Metha, Dubai: Open from 10:00 am to 12:00AM Midnight
Call to book: 04 3709706