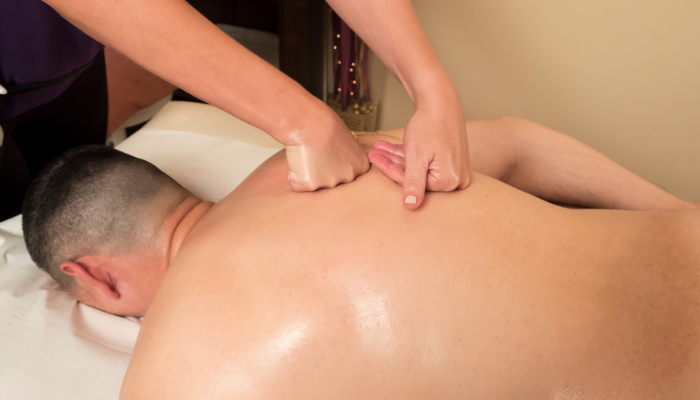 2023 has dawned bright and clear and it is time to give those party bones a rejuvenating detox. A full body massage is the best way to shed the past year's stresses. At Cool Aroma Spa, we believe in healing and re-energizing the body with the help of massage therapy enriched with nourishing oils, and gentle strokes that knead all the toxins away.
Below are some highly recommended massages you should most definitely try if you are looking for 60 minutes of pure relaxation.
Head, Neck, and Shoulder Massage: The Head, Neck, and Shoulders are the places where the body tends to hold the most tension. A good massage therapist loosens these blockages and improves blood flow, resulting in clearing toxins from the skin and soothing the body. A head, neck, and shoulder massage also improves circulation of blood to the brain so you are rejuvenated and ready to focus on whatever is next!
Hot Stone Massage: Relieve a tired back and body by indulging in a luxurious Hot Stone Massage. Gentle massage strokes are accompanied with placing smooth hot stones on the body's pressure points. This technique promotes the penetration of heat, thereby relaxing stiff muscles and detoxifying the skin.
Ayurvedic Oil Massage: A traditional Indian Ayurvedic Oil Massage is just what you need to detoxify your body. Aimed at harmonizing the mind and body, this treatment uses a mix of specialty herbal oils and relaxing massage techniques to ensure absorption of the oils right into the skin and promote healthy blood circulation. An extremely rejuvenating and refreshing massage, this one has to be on your list if you want to sink into a luxuriously relaxing experience. 
Deep Tissue Massage: One of the most popular massages, Deep Tissue Massages encourage the elimination of toxins through lymphatic drainage. This treatment is a combination of stretching and long stroke massage technique that heals deeply and targets muscles that cause inflammation and pain. It also helps loosen muscle strain and loosens any negative blockages from deep inside the skin.
Foot Reflexology Massage: Foot Reflexology is a foot massage technique that puts pressure on certain points on the foot which help relax the body. It is an intensive session that targets the all-around health of the body leaving you relaxed and refreshed after. 
So, book an appointment at Cool Aroma Spa today and let the trained therapists knead away your stress so you can take on the new year with new vigor!
Make an appointment at our branch at Oud Metha, Dubai or Prism Tower, Business Bay, Dubai.
Prism Tower, Business Bay, Dubai: Open from 10:00AM to 11:00PM
Call to book: 04 4203344
Oud Metha, Dubai: Open from 10:00 am to 12:00AM Midnight
Call to book: 04 3709706