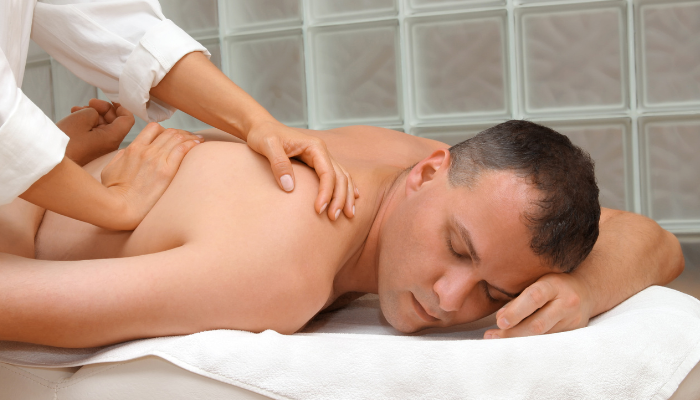 Modern lives come with modern stresses. As we spend more and more time sitting in front of computers, have bad posture, and don't have a consistent workout routine, we fall prey to back, shoulder, and neck discomfort very early on in life.
Keep scrolling for tips on how you can incorporate lifestyle changes to target these muscle groups and provide maximum relief along with accelerated muscle recovery.
Manage stress: One of the main reasons for muscle tightness is stress and anxiety. Incorporating small lifestyle changes like regular exercise, meditation, and a good healthy diet can prove to be very effective in managing stress in the right away.
Posture: Conscious attention to your posture ensures that you are not putting yourself under physical strain. Wrong or poor posture can affect your back, neck, and shoulders and lead to stiffness in the joints and chronic pain. Taking small walks between long hours at your desk, gentle stretching, and investing in a posture belt are great ways to keep pain at bay.
Keep a journal: How can keeping a journal help manage back, shoulder, and neck pain? Writing down your thoughts plays a big part in managing your goals and keeps your life from getting away from you. Whether it is a to do list, or a list of your moods, writing them down helps one keep their emotions in check.
Chair: Are you using the right chair? As more and more working models are becoming hybrid, work from home is becoming quite popular. As is natural, one is likely to want to feel relaxed and comfortable when working from their homes. However, it is important to invest in the right chair so that your neck, back, and shoulders are constantly upright and supported. Sitting on the couch for long periods of time can invite muscle stresses which could take the shape of a chronic situation.
Get a massage: One of the most comfortable ways to tackle neck pain, back pain, and shoulder pain is to get a massage that focuses on these problem areas to loosen, strengthen, and deeply relax them.
We tend to accumulate the most stress in the back, neck, and shoulders. This makes one feel stiff and tight. A head, neck, and shoulder massage gently loosens and relieves the tension while simultaneously working towards clearing any blocks in your energy channels. It is also a great way to improve blood circulation in the body leading to better focus and rejuvenation. You can also opt for other massages like the Deep Tissue massage, Balinese massage, Thai Massage, and Healing Hilot.
If you are looking for a back, neck, or shoulder massage for men, you may want to check out Cool Aroma Gentlemen's Spa's range of relaxing massage therapies. Book an appointment today and drive away that muscle tension.
Make an appointment at our branch at Oud Metha, Dubai or Prism Tower, Business Bay, Dubai.
Prism Tower, Business Bay, Dubai: Open from 10:00AM to 11:00PM
Call to book: 04 4203344
Oud Metha, Dubai: Open from 10:00 am to 12:00AM Midnight
Call to book: 04 3709706