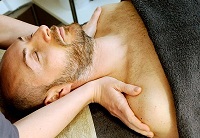 We all know that working out is good for your body. If you manage to do some sports or another kind of activity during your busy workday, then you will feel the positive effects on your physical strength, health, and restfulness. However, working out can often lead to your body having some serious aches and pains.
In fact, even if you don't work out as often as you like, you may find that you would benefit from a sports massage for men. Sports massage can help your muscles to recover from the rigorous activity you have taken part in, and leave you feeling ready for more. But what are some of the best sports massages? Read on to find out.
Deep Tissue Massage
A Deep Tissue Massage is a great choice for those requiring a sports massage. Rather than working at the surface level, this massage focuses on the layers of muscle that are deep under the skin. The force of this massage is designed to help with chronic pain and sports recovery by improving circulation and helping toxins to disperse. This eases injuries caused to muscles during sports, giving you a quicker and more effective recovery.
Healing Hilot Massage
This Filipino treatment also focuses on manipulating the deep tissue of the body, using kneading and long strokes to promote healing. The Healing Hilot Massage uses a range of wonderfully relaxing herbal and essential oils which soften the skin and can help to reduce inflammation. This is invaluable if you suffer from any external injuries, such as bruising, as well as easing tension overall.
Thai Massage
Thai Massage focuses on easing pain in joints and muscles by encouraging healthy movement. When you often do one type of sport, you tend to rework the same muscles and joints – resulting in overuse of these muscles. Thai Massage allows you to work your body in its entirety by going through stretches and poses similar to yoga. This encourages your muscles to relax and recover after exercise, relieving your tension and promoting healthy muscle function.
Are you ready to feel better with a sports massage for men? Get in touch with Cool Aroma Spa to enjoy these, and a range of other incredible treatments to help you to feel your best.
Make an appointment at our branch at Oud Metha, Dubai or Prism Tower, Business Bay, Dubai.
Prism Tower, Business Bay, Dubai: Open from 10:00AM to 11:00PM
Call to book: 04 4203344
Oud Metha, Dubai: Open from 10:00 am to 12:00AM Midnight
Call to book: 04 3709706