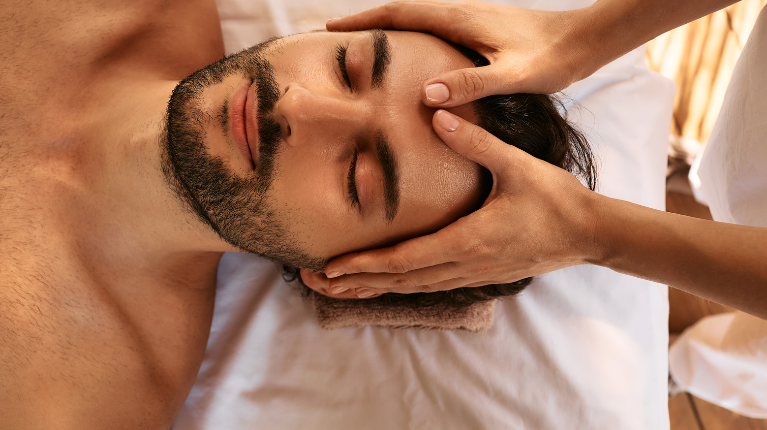 In today's fast paced world, it's essential to find ways to combat stress and bring about a healthy balance between your physical, mental, and emotional wellbeing, and regular massages do just that. Here's five great massages to add to your routine for a truly relaxing mind, body, and soul!
Aromatherapy Massage
At its core, the Aromatherapy Massage is a sensory journey like no other. Using a curated selection of essential oils, this massage combines aroma therapy with expert techniques to soothe both body and mind. The calming properties of lavender, the invigoration of eucalyptus, and the relaxation of rose create a holistic experience that melts away stress and promotes overall well-being.
Ayurvedic Indian Oil Massage
Experience the ancient wisdom of an Ayurvedic Massage, tailored to balance your unique dosha energies, reducing stress and promoting harmony. Using herbal oils and specialized techniques, our skilled therapists at Cool Aroma Spa ensure that your mind, body, and spirit find a gentle release. This holistic approach not only relieves muscle tension but also enhances your overall sense of well-being.
Balinese Massage
Embark on a tropical retreat without leaving Dubai with our Balinese Massage. Originating from the exotic island of Bali, this massage combines gentle stretches, acupressure, and aromatherapy to create a serene experience. At Cool Aroma Spa, our therapists use their expert skills to relieve muscle tension while transporting you to a paradise of relaxation.
Hot Stone Massage
Take relaxation to the next level by indulging in a Hot Stone Massage where smooth, heated stones are strategically placed on your body to create a soothing warmth that penetrates deeply into muscles, easing tension and promoting healthy blood circulation. The combination of therapeutic heat and expert hands leaves you feeling profoundly relaxed and rejuvenated, making Hot Stone Massage one of the most popular massages in Dubai.
Lomi Lomi Massage
Often referred to as the "loving hands" massage, Lomi Lomi uses long, flowing strokes that mimic the gentle waves of the ocean. This massage not only alleviates physical tension but also releases emotional stress, leaving you refreshed, recharged, and at peace. Lomi Lomi Massage is a holistic and transformative experience that allows you to let go of stress and reconnect with your inner calm.
Cool Aroma, the Gentlemen's Spa offers a selection of top-class stress-relieving massages, each designed to provide a unique path to tranquility and well-being. Whether you choose Aromatherapy, Ayurvedic, Balinese, Hot Stone, or Lomi Lomi Massage, you're in for a rejuvenating journey that will help you unwind and find your inner balance.
Book your appointment at either our Oud Metha or Business Bay branch, today.
Business Bay: Open 10AM to 11PM 04 4203344 | Oud Metha: Open 10 am to 12AM Midnight 04 3709706
Make an appointment at our branch at Oud Metha, Dubai or Prism Tower, Business Bay, Dubai.
Prism Tower, Business Bay, Dubai: Open from 10:00AM to 11:00PM
Call to book: 04 4203344
Oud Metha, Dubai: Open from 10:00 am to 12:00AM Midnight
Call to book: 04 3709706