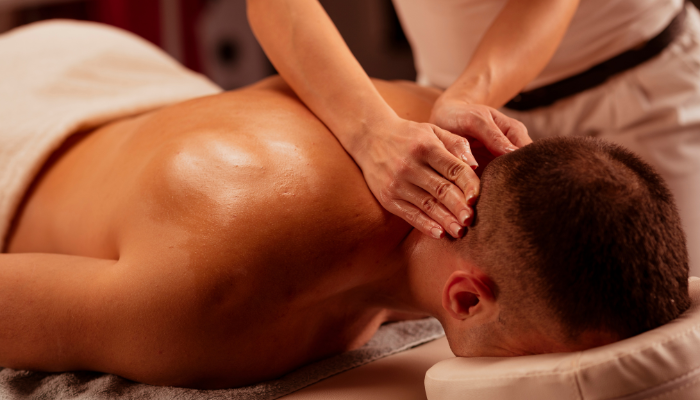 Just as we have cheat days amid our exercise routines, there are also 'rest days'! Keep reading and you'll find out the importance of rest days. These are days that give time to your body to recoup from a heavy workout like strength training or weight lifting. Rest days ensure that the body doesn't feel worn-out. Ideally, a rest day should be taken every 7-10 days.
So what do you do on these rest days? Activities that help your body replenish its energy and help relieve muscle soreness. Cool Aroma Spa's deep tissue massage does exactly this for you!
What is a Deep Tissue Massage?
A deep tissue massage is a relaxing massage that helps you recover and restore your energies. It is a combination of stretching, skin rolling, palm-thumb pressure along with long stroke techniques. Our therapists focus on deep layers of muscles in the body to ease tension.
Come and visit us to see how this therapy can help you rejuvenate from your tedious cardio and weight sessions.
But, why is this massage particularly important after a workout?
During a strenuous workout, anaerobic respiration might take place in our body. Which means our muscles do not get adequate oxygen and this causes the build-up of lactic acid in the bloodstream. This acid causes soreness, swelling, pain and knots in our muscles as there is controlled amounts of oxygen reaching the muscles.
With the deep pressure of this massage, therapists help increase blood flow to various parts and ease your muscular discomfort as well.
Benefits of a deep tissue massage on your rest day
Oxygenating the muscles
A deep tissue massage is a pressure driven therapy that promotes blood circulation and takes out damaged tissues. It helps in the removal of toxins and increases flexibility.
Easing muscular tension
Heavy workouts cause strain on the muscles. At many times, the build up of lactic acid leads to inflammation of muscles. Our deep tissue massage therapists specially focus on massaging deep layers of muscles soothing any kind of soreness and knots.
Releasing stress
Continuous exercise, without any rest days, leads to stress and monotony. Indulge in a relaxing deep tissue massage on your rest day to relax, rejuvenate your body and soothe your mind.
Consult our professional therapists at any of these branches to learn how you can take care of your muscle-building with a deep tissue massage –
Open 10am to 12am
For appointments, call 04 3709706
Open 10am to 11pm
For appointments, call 04 4203344
Make an appointment at our branch at Oud Metha, Dubai or Prism Tower, Business Bay, Dubai.
Prism Tower, Business Bay, Dubai: Open from 10:00AM to 11:00PM
Call to book: 04 4203344
Oud Metha, Dubai: Open from 10:00 am to 12:00AM Midnight
Call to book: 04 3709706